---
Magical Ambiguities with Susan S. Bank
Book Presentation & Panel
Thursday, August 10, 2017 | 6PM – 8PM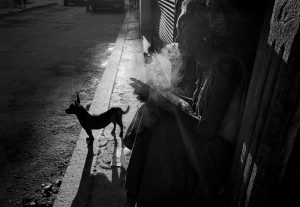 Denora in Noon Shadows © Susan S. Bank
Rural and urban Cuba are revealed through the lyrical images of artist and photographer Susan S. Bank. Bank will present her books, "Cuba: Campo Adentro" and "Piercing the Darkness", followed by a lively conversation with the artist herself, Liz Munsell, Assistant Curator, Contemporary Art & Special Initiatives at Museum of Fine Arts, Boston, and Iaritza Menjivar, artist and documentary photographer, moderated by Anabel Vázquez Rodríguez, Curator at Leica Gallery Boston.


Leica Gallery Artist Talk with EJ Camp
Thursday, May 4th | 4pm – 5pm
Join us for a lively and insightful conversation with our exhibiting artist, EJ Camp. Her unique photographs were shot exclusively with the medium format Leica S camera. Her favorite subjects, The North and South Forks of Long Island, have some of the most beautiful coastlines in North America, making Camp's quest for unique images inexhaustible. Stemming from a career in capturing light and emotion in her portraits, Camp has developed an interest for the way light reflects off the changing surface of the ocean.
Leica Gallery Opening with EJ Camp
Thursday, May 4th | 6pm – 9pm
Join us and experience EJ Camp's ravishing and alluring photographs of some of the most beautiful coastlines off Long Island, exclusively taken with her medium format digital Leica S.
"What inspires me in my portrait work is love and respect for people. I want to capture a feeling that takes me further into that person. Similarly, I love the sea. It changes moment to moment and I never tire of its fusion of light, movement and complexity. The sea is like a face; it has many expressions. Both genres are about catching the moment." -EJ Camp
---
Leica Akademie : Photography Wide Open with Mark de Paola
Saturday, November | 10am – 5pm
For the first time, on the east coast, fine art photographer and director Mark de Paola presents an exclusive one day workshop at Leica Store Boston Saturday, November 5, 2016 from 10 am – 5 pm.
Focused on "Photography Wide Open", this seven hour, shooting intensive, workshop is designed for creative photographers interested in stretching their imagination and expanding the traditional definition of portraiture.
For over 40 years Mark has used Leica cameras and lenses, especially the 50mm Noctilux, to deliver projects for clients ranging from Vogue and Gucci to Superbowl commercials and fine art photographic exhibitions.
His first hand experience and wealth of still and motion imagery will provide a foundation for the class and serve as a point of inspiration during an afternoon of in depth discussions and practical exercises.
Topics covered include:
Historical overview of Leica glass and evolution.
Impact of lens choice on the creative process.
Maximizing your use of Leica lenses.
Working with natural light indoors and on-location.
Techniques for working at minimum focusing distance.
Capturing motion in a still image.
Understanding the collaboration between photographer and model.
After a morning of lectures the class will break up into small groups to work with models on location both at the Leica Gallery and at selected outdoor locations. The sessions will conclude with a brief review of work from the day.
Owning a Leica is not required for this event. We will have a selection of both M and the newest Leica SL available for you to use.
Don't miss your chance to discover how Mark came to find his own visual aesthetic and experience for yourself the process that allows him to dance on the threshold of exposure and minimum focus distances.
This program is scheduled to coincide with the opening of Mark's "60 Seconds" exhibition at the Leica Gallery Boston.
Price: $249
---
Artist Talk: Renowned Magnum Photographer Constantine Manos
Friday, September 16 | 6:30PM-8:00PM
Join us for a special artist talk with Leica Gallery Boston Featured Artist Constantine Manos. Get a behind-the-scenes perspective of his "Looking Back" exhibit as the long time Bostonian shares stories and slides from his illustrious photographic career. The talk will conclude with a special Q&A session and book signing. Books will include out-of-print collectibles that will be available for sale at the event.
Price: Complimentary
---